We have made changes to our ATM Networks. We have discontinued the MoneyPass ATMs, and added Co-op ATMs.
With First Nebraska, you have access to over 85,000 surcharge-free* ATMs across the U.S. with the Allpoint ATM network, and Co-op ATMs, a new network we added in February.
4 FREE Withdrawals
4 FREE Transfers
4 FREE Balance Inquiries
Surcharge-free means FNCU will not charge you to use the machine, for the first 4 withdrawals, first 4 transfers, AND first 4 inquiries – PER MONTH, PER ACCOUNT. Upon the 5th and subsequent withdrawals, transfers and inquiries during the month, FNCU will charge $2.50 per transaction.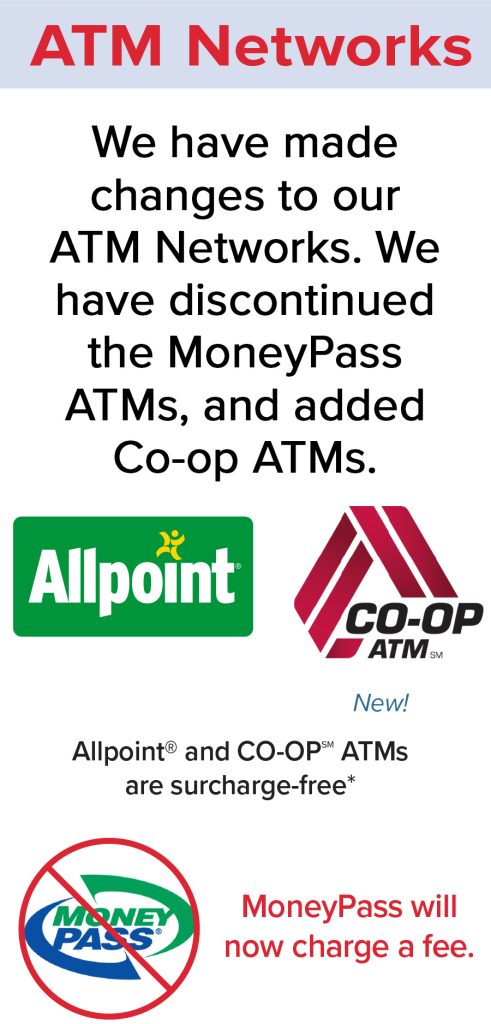 With Allpoint's 55,000 ATMs and Co-op's 30,000 ATMs, you are sure to find a convenient location near you, whether you are at home or on vacation in the U.S.
Any questions, please give us a call.
* For each non-FNCU branch ATM transaction over four, per account, per month, an ATM Transaction Fee of $2.50 will be assessed. Other bank, credit union, and ATM operators' surcharges may apply. Cash withdrawals subject to daily limit.
** The Premier Checking Account includes unlimited free ATM transactions, even if it's not an Allpoint or Co-op ATM. However, other bank, credit union, and ATM operators' surcharges may apply.