Where do I go to find account info?
You can access your account through Online Banking, the Mobile Banking app, or Phone Banking (531) 600-6797. Also, account information is available by calling (402) 492-9100 or visiting a branch.
How do I update my email, phone or other information?
You can update your contact information by signing in to Online Banking and clicking on the "person" icon to view user options (profiles and settings). On the Mobile Banking app, click the "menu" icon and choose "Profile & Settings."
You may update your account description, phone number, email address, login ID, and password.
How do I change my address?
Please give us a call to update your address. (402) 492-9100
What is the difference between a Home Equity Loan and Line of Credit (HELOC)?
If you own a home, you can borrow against the equity of the home with either a loan or a line of credit. The equity in your home is the difference between what your home could sell for and what you owe on the mortgage.
With a home equity loan, the lender advances you the total loan amount upfront, while a home equity line of credit provides a source of funds that you can draw on as needed. A few other differences are shown in the chart below.
What is Remote Check Deposit?
In the Mobile Banking app, click on "Deposit" to deposit checks by taking a picture of them on your mobile phone or tablet.
Choose the account you want the check deposited to, and type in the amount written on the check
Endorse your check with "For Remote Deposit Only FNCU" and your signature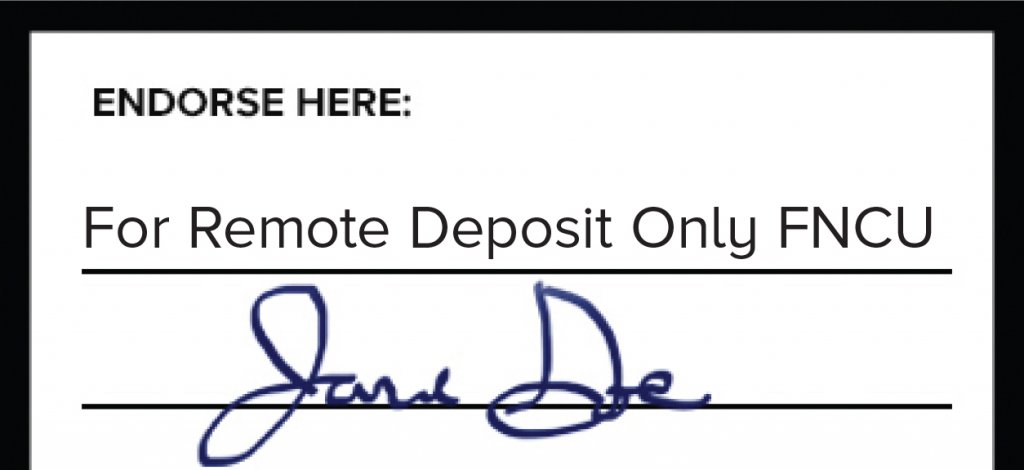 Take a photo of the front and back of the endorsed check
Click "Submit"
You will receive a notification once items are accepted for deposit and processed to your account
What is MoneyMap?
MoneyMap is an online money management tool that is FREE to FNCU members. It is great for budgeting and categorization of your spending, as well as account aggregation.
Once you log in, all your FNCU accounts will be loaded automatically. Then you can add other financial accounts you have, including checking and savings accounts, loans, credit cards, 401(K) or IRAs, etc.
All of the accounts you setup in MoneyMap will be available with one login, and military-grade security!
It is available in Online Banking in the "More" tab, and also has its own mobile app called MoneyMobile.
What is an eAlert?
An eAlert is a notification of activity on your account sent via email or text, such as a Balance, Check Cleared, Loan Payment, Maturity Date, or Transaction. Examples:
Notify me when my balance is less than $100
Alert me when I have a deposit between $500–$5000
TO SIGN UP – Online Banking: Log in and click the "Bell" icon; OR Mobile Banking*: Log in, click the "menu" icon and choose eAlerts.
What is an eNotice?
An eNotice is a notification of a notice from FNCU sent via email or text, such as an overdraft, certificate maturity, loan payment, or an e-receipt.
Enrolling in eNotices will replace all the notices that would typically be mailed to you.
TO SIGN UP – Online Banking: Log in and click the "Person" icon to view User Options (profile
and settings).
What is Bill Pay?
Quickly and easily pay all of your bills in one place using Bill Pay — a FREE service available for all checking accounts. Set up recurring bills or one-time payments from your FNCU checking account.
What are Person to Person (P2P) payments?
Within Bill Pay , you may utilize the Pay-a-Person option to send funds to a person using their email or text messaging option on a mobile device. Funds are debited from your account and a notification is sent to the receiver of the payment. They will enter their debit card number or account number from any financial institution to accept the payment from you.
What is Picture Pay?
Picture Pay allows you to snap or upload a picture of a bill to easily create a payee and authorize a payment to them. The system auto detects the payee information to automatically create the new payee in the system. This eliminates the hassle of entering payee information and account numbers. Copies of bills are stored online and are easily accessible. Pictures that are more difficult to read will be routed to a specialist to hand-enter the information and create the new payee for you. This feature is available on your mobile device and your desktop computer.