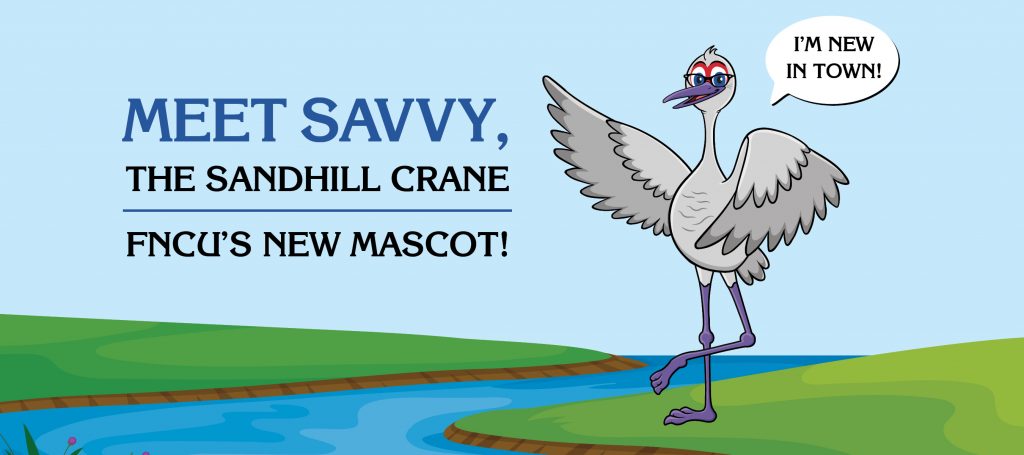 Introducing our new mascot, Savvy, the Sandhill Crane!
Savvy stopped in Nebraska during migration, and loved it so much, she decided to stay!
"When I saw First Nebraska was looking for a mascot, I knew I'd be the perfect fit! I represent good fortune, happiness and longevity. I am also a symbol of peace, wisdom, fidelity and goodwill to others, which are all characteristics of the credit union philosophy of "people helping people," and complements FNCU's company values.
Plus, Nebraska is a special place for Sandhill Cranes. Each year, 400,000–600,000 of us stop to rest and refuel in Nebraska during our migration."
GOOD FORTUNE • HAPPINESS • LONGEVITY • PEACE • WISDOM
---
To help welcome Savvy, we are giving away a Henry Doorly Zoo & Wildlife Safari Park package!*
Our winner, to be drawn in February, will receive a one-year zoo membership (choose between a family or two-person pass.)
To enter the giveaway, you'll have to find Savvy somewhere on our website! Then, visit our giveaway page, and tell us where you found her!
*Enter Jan. 1 through Feb. 15, 2022. To be eligible for the Zoo Giveaway, you must: 1) be a legal U.S. resident, 2) be twenty-one (21) years of age or older, and 3) live in Nebraska or Iowa, and 4) be eligible to join First Nebraska Credit Union (See firstnebraska.org/membership/how-to-join for membership eligibility.). Limit one (1) entry per week, per person. Odds of winning are based on number of entrants. A random drawing will be held Feb. 22, 2022 to determine the winner. No purchase necessary. Package is valued at $320. Visit firstnebraska.org/news/mascot-giveaway for full terms and conditions.
---
Savvy's design was inspired by native Nebraska artist, Paula Warner. Paula designed six original pen-and-ink drawings for FNCU, and each of our branches has one on display. View her art in several galleries in Nebraska, or check out her book, "Introducing Sandy Crane" online. Learn more about Paula's art by visiting www.paulawarner.com.