The odds of identity theft are high, but we can help you detect and recover from it.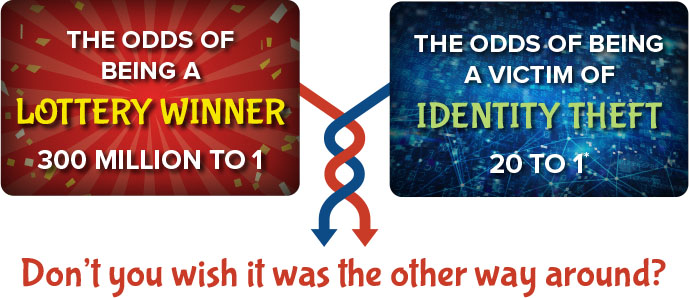 ---
We can't help you pick winning lottery numbers. But we
CAN
help you
recover from the effects
of identity theft.
Our Checking Accounts1 include Identity Theft Solutions to help detect identity theft and safeguard you from the consequences of identity theft. And when you activate our free credit monitoring, it will notify you of potential fraud.
We include this valuable benefit as part of your Checking Account1 at no cost to you, because we want to help protect you.
Make sure you are ready in case you become a victim of identity theft.
Learn more about our Checking Accounts.
* Allstate Identity Protection's first quarter "Identity Fraud in Focus" report.
To open a checking account, you must have a share savings account which requires a minimum balance of $5. To qualify for a checking account, you must meet certain eligibility requirements. Certain checking accounts have a monthly service fee or a minimum balance fee. Parent/guardian required for account holders under 19. For more information on our fees for checking, visit firstnebraska.org/checking. All checking products and services are subject to applicable member agreements, terms and conditions.
1) Secure and Premier checking accounts include Identity Theft Solutions; Classic checking does not. For more information, visit firstnebraska.org/identity-theft-solutions.